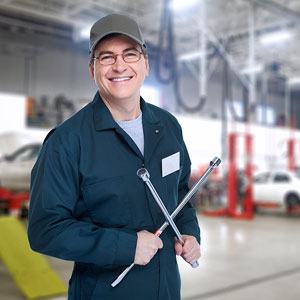 Automobile service technicians, aka auto mechanics, maintain and repair cars, trucks, vans, and other vehicles. They perform routine oil changes, tire rotations, and battery replacement, as well as more complex repairs. The automobile service technician may test drive a vehicle or use motor analyzers, spark plug testers, compression gauges, or other diagnostic equipment to determine the problem.

Automobile service generalists have proficiency in light repairs and maintenance such as oil changes and replacement of brakes, spark plugs, belts, and hoses, while specialists concentrate on, and master, one or two specific areas of repair. Specialists such as electrical-systems technicians service and repair the electrical circuitry in modern vehicles, while front-end technicians specialize in suspension and steering systems. Other specialists include brake repairers, transmission technicians, automobile-radiator mechanics, and alternative fuel technicians.

A high school diploma is preferred in today's competitive market, and those looking to pursue a career in the automotive service industry should concentrate on automotive and shop classes, as well as math, English, and computing. Many employers also look for candidates that have a minimum of two years of training through a community college, vocational school, or independent organization. Technicians can be voluntarily certified by the ASE in automatic transmission/transaxle, brakes, electrical/electronic systems, engine performance, engine repair, heating and air conditioning, manual drive train and axles, and suspension and steering. Those certified in all eight areas are known as master mechanics.

In addition to the above educational requirements, automobile service generalists must also be patient and thorough with excellent trouble-shooting skills. Salary is dependent on level of experience as well as certification, and skilled workers will continue to be in high demand. For more information, visit the Automotive Service Association and the National Automotive Technicians Education Foundation websites.
Related Directory Pages
---
About Auto Mechanics' Job Responsibilities, Educational Requirements, and Working Conditions